Admittedly, you'd expect the founder of a company that helps remote teams with payroll and taxes to not like offices. But Sahin Boydas is a little different than most entrepreneurs.
With nearly 10 startups under his belt (a handful of failures and a handful of successes and exits), Sahin has barely ever worked in an office - and never on a permanent basis. Whether in his native Turkey, to Boston, to Silicon Valley, every single one of his startups is remote. It's perhaps no wonder he refers to offices as "prisons of the mind." 
In this interview, Sahin and I talked about the future of Silicon Valley, how Sahin thinks about angel investing remotely, and of course the future of remote work. 
Check out key takeaways below or listen to the whole episode on your favorite podcast platform.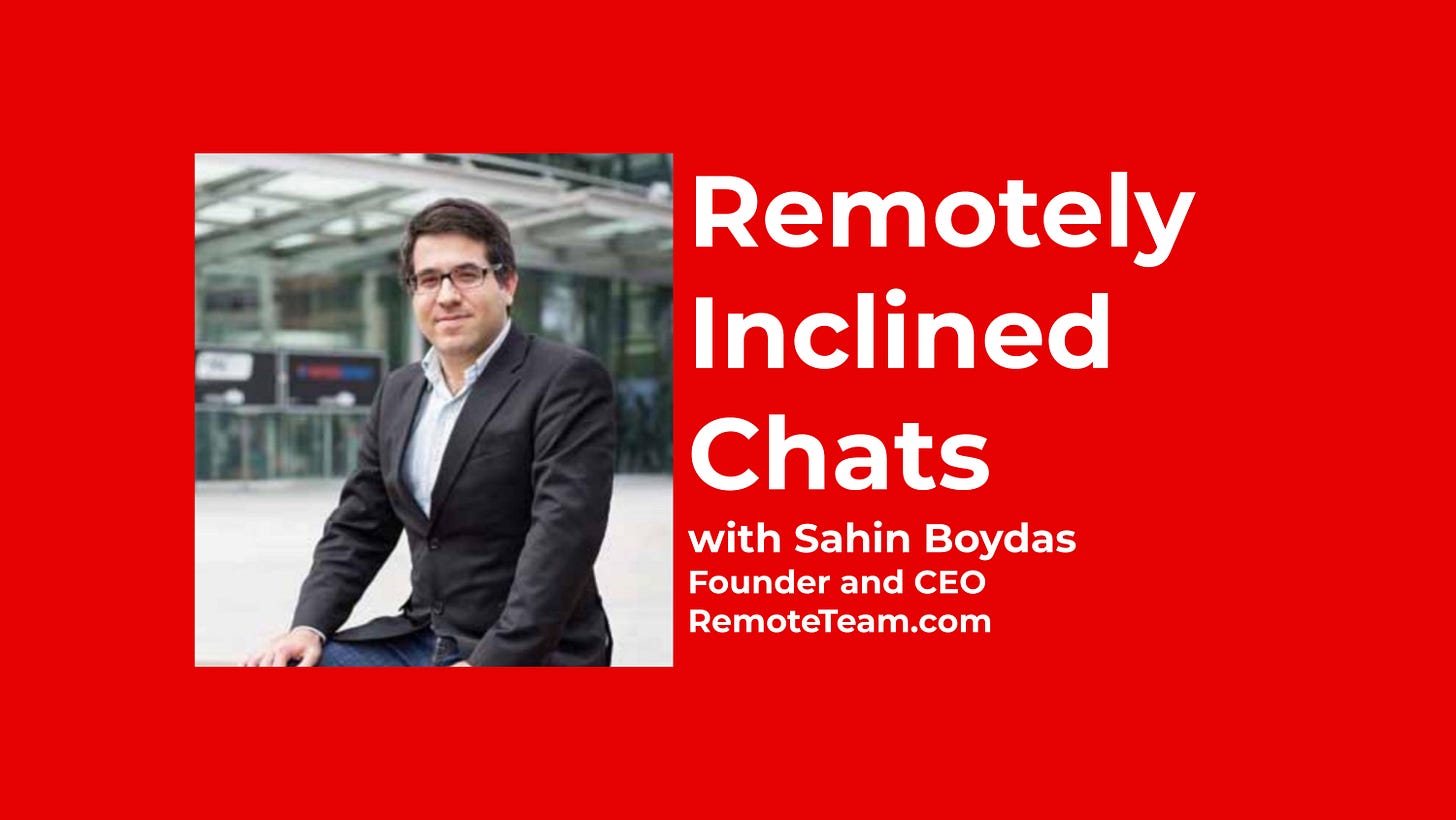 Image courtesy Remote Team
Silicon Valley's greatest export
Silicon Valley was - and arguably still is - the global epicentre of tech. Even in a remote world, Sahin doesn't think that's going anywhere. Instead, the shift will be from requiring physical presence in Silicon Valley to requiring a Silicon Valley mindset anywhere you are in the world. What constitutes a Silicon Valley mindset? For Sahin, it's a willingness to try new things, take bold risks, and invest in ideas knowing that not everything will work out, but the production and founding process will teach individual founders a lot and help educate the whole ecosystem for the next crop of entrepreneurs. 
Key quote: 
"The idea of Silicon Valley is three ingredients. The first ingredient is we welcome everyone in the world. It's the American dream on steroids. Second, you are free. You can be anything. I think anyone, any gender, any religion, you will be welcome here. Then we have Stanford, getting millions of ideas from professors. And we have the money from Sand Hill Road and Stanford. Then we have the lawyers that know how to do the exit playbooks."
"It's not really about the tech, it's about the outcome and building something fast… it's about the culture."
Angel investing remotely
After some business successes, Sahin began to invest in other startups (remotely, of course). Instead of following a geographic thesis or waiting for the startups to come to him, he decided to take his stock investing mentality and bring that to angel investing. Namely, Sahin invests in companies that he either is a huge fan of as a customer or, if the solution isn't what he personally needs, that he's a huge fan of in general. It may not be the most sophisticated, algorithmic investment strategy, but it's a system that helps him direct his investment dollars into opportunities he's genuinely happy to rave about.
Key quote: 
"I personally read around a thousand article titles a day to generate ideas. If someone is building my idea, that's an investment I want to make."
"If I find any idea that I really, really, really like, I reach out to the founders."
(Disclosure: Always do your own diligence on investments and follow your own independent research. Everything we talked about in the episode were just examples, not advice.)
The future of work
Sahin founded RemoteTeam.com to help remote companies manage the nitty gritty details of payroll, taxes, and employee administration on remote teams - all the little things that get more complicated when you don't have one central office location. 
As such, it's pretty easy to believe that Sahin thinks the future of work is remote: 
Key quote: 
"We somehow got used to this 8 hours of sleep, 8 hours of work, and 8 hours of family time. But I don't think I've ever worked 8 hours linear in my life."
"I'm so excited that the world is catching up to [remote work] and changing."
The final word
"The office was built by the industrial revolution… the office is our prison of the mind"
Amazing, thank you for your insights!
You can get in touch with Sahin on: