Jul 30, 2020 • 18M
How Instagram Helped Avery Francis Close Half a Million Dollars in Business Remotely
Interviews with thought leaders and practitioners about remote work and remote entrepreneurship.
Hi,
Welcome to Remotely Inclined, a newsletter about running a business remotely. If you'd like to sign up, you can do so here. Want to share your feedback? Respond to this email (or send me one) Or just read on…
First: Welcome to new subscribers! If you know someone interested in running a business remotely, I'd be grateful if you forwarded them this newsletter.
Today: We're talking choosing to go remote, structuring a business in a way that works for you as an entrepreneur, and the power of moving your energy where it's valued.
---
Avery Francis has been an HR leader for years, but went out on her own to found Bloom in 2018. The company has been some form of remote from day one, but went fully remote in late 2019, and Avery has since run the business from Canada, Scotland, the Netherlands, and more. 
In this conversation, Avery shared the biggest shift she made as an entrepreneur - and how it led to generating over $500,000 in revenue from Instagram, only working 28 hours a week despite growing quickly, and becoming more profitable than she ever thought possible.  
Copy what you know and end up a copycat
→ Avery worked for a few companies before she went out on her own to found Bloom. In the beginning, Avery structured Bloom based on copying her experience at her previous employers. 
→ This helped her get off the ground, but she realized that the business wasn't actually serving her. She was making some money, but was working more than she wanted to and in a way that didn't feel authentic to her. 
→ She thought actively about the kind of business and lifestyle she wanted, not just what she knew about at the moment. This was based on personal desires, what she admired about other companies, and Bloom's values. From there, she started to restructure Bloom to better serve clients, make more money, and provide a better lifestyle for her and her team. 
Changing for the better
→ A key part of Avery's realization is that she wanted to travel more and build a business that served her, instead of the other way around. 
→ Here are a few of the changes Avery made to her business: 
Moving from 5 days a week, 8 hours a day to 4 days a week, 7 hours a day. 

Moving from working on client site to working remotely with occasional client visits. 

Not being available 24/7 on email for clients and setting boundaries. 

Launching more specific services, including Bloom Experiences, to evolve the company away from just contingent recruiting. 

Invoicing monthly instead of bi-weekly. 
→ These changes not only provided a far better lifestyle but made Bloom more profitable, as new services brought in revenue and monthly billing allowed for more client development without concern that an invoice was always coming the following week. 
Twitter energy on Instagram
→ Another part of Avery's transition with Bloom was to bring her personality more into the business. She wanted a business that allowed her to be herself, not have to put on a face for clients. 
→ As part of that, she started using expressing creative / visual side, taking the insights she would share on Twitter and creating graphics for Instagram. One Instagram post took off, and helped her gain over 70,000 followers - including Arianna Grande. 
→ Her newfound platform with Instagram helped Bloom and Avery reach a global audience, which so far has resulted in over $500,000 in new business - just from leaning into the things she already liked to do and building a business that supported who she was as a person.
The final word
"Once I got to the point where I had overcome my own assumptions about the type of business that I was going to build, I moved away from basically copying what I'd already seen, done, and what already worked. I was able to build a company that was right for me."
---
Remotely Inclined Chats with Avery Francis
Transcript edited for brevity and clarity.
Stefan: Welcome, Avery! Can you share what Bloom does?
Avery: In a nutshell, we help companies build the world's best workplaces. 
You were hybrid remote but decided to go full remote - what was your decision making process like?
We made the decision to go fully remote about four months before COVID hit. It had been something I'd been working toward for about a year and a half since founding my business. I realized a lot of work could be done remotely. 
I spend a lot of my time having confidential conversations or conducting interviews, and often I'm working in a startup environment in these big open spaces. There was often either not a lot of office space or not a great desk situation for me. 
I've also been in a long distance relationship for a very long time and it came to the point where one of us had to make a move - and I've always wanted to work in the UK. So I took advantage of my dual citizenship and built a company where I can work remotely and work from anywhere in the world.
How did you adjust client expectations?
I'm really lucky to attract and work with some really amazing companies. When I initially said Bloom is moving to a more fully remote team, there were no questions asked. 
There were no client challenges. The challenges that were presented was making an adjustment in the way I structured my business - and that meant hiring more people. While I was running and operating the business from Scotland, I had three people based in Toronto continuing to work onsite with clients, but in a more passive basis versus being on site for eight hours a day. 
Did having to hire change you as an entrepreneur?
I needed to rework how I was thinking about the company I was looking to build. Being transparent, I was working with an organization that did - and does - very similar work to what we're doing at Bloom. And I had structured my business off of the company I was working with prior. As a result, I was building a business that wasn't the type of business I would want to be working in. 
So it wasn't necessarily external factors that caused challenges, but it was my own way of thinking. Once I got to the point where I had overcome my own assumptions about the type of business that I was going to build, I moved away from basically copying what I'd already seen, done, and what already worked. 
I was able to build a company that was right for me. 
What were some of the unique elements that worked for you?
When I used to work full time, I would go from one company to the other. What I found in terms of making this transition to building Bloom is that I had complete freedom to mess up, to make mistakes, and to build something true to me. 
The way we structured our days. 

In how we collaborated with clients. 

The way we communicate. 
For example, we're in a busy season but we don't work Fridays. We've had a four day work week for well over a year now. That's what the team prefers. And we don't work eight hours a day, we work seven. And even when we answer emails, we set really clear boundaries with clients in terms of when we're available to chat and when we're there to support them. 
For invoicing, instead of doing everything on a biweekly basis, which is what I was used to, we do monthly. It's actually influenced us being more profitable. 
You also launched new offerings and leveraged new growth channels. Tell me about that
The plan was to launch this new offering months ago, but COVID hit. So we've been doing this work, and now get to formally introduce it: Bloom Experiences. It's for organizations looking to bring in a new approach to corporate training and education for their teams. 
At Bloom, we're all about growth. It's what we're best at. We wanted to specifically look at how we were actually helping companies grow. We look at our values and how we're able to impact growth, and we're really good at building those systems and structures so companies can scale in a meaningful and intentional way. 
So we were able to put in great, equitable hiring systems. But once these people get hired, what were we doing to further grow these folks? That's where the education and deep learning experiences come into play. 
Obviously, with the uprising of the Black Lives Matter movement recently, we've been doing a lot of diversity, equity, and inclusion learning experiences too. 
Most coaches and consultants are on LinkedIn or Twitter. But you've found success on Instagram. How did that happen?
Yeah! I have celebrities like Arianna Grande following me now. It's funny. 
What was meant to be a tongue-in-cheek post about what non-Black folks can do to better support Black people … kind of spiraled. 
What I've been saying is that I take my Twitter energy to Instagram. Instagram is a flex in terms of where you've travelled, who your friends are, and maybe a cute photo of your beautiful partner. And Twitter's where you flex your brain muscles and talk about the things you're passionate about. 
And then I do it in an aesthetically pleasing way. I'm serving up - in some cases hard - lessons from my own lived experiences as a Black woman or some tongue-in-cheek advice.
(She uses Canva to design her beautiful Instagram carousels.) 
What's been the result of that Twitter energy on Instagram?
Just in the past two months, it's resulted in over $500,000 in revenue. That's pretty wild. It's very unexpected. I didn't know that I'd be able to build these kind of deep connections and relationships on Instagram. 
I love sharing ideas and sharing how to do it. I'm happy to share all my tips and secrets and how I navigate what I do. With Instagram, it feels more in tune with who I am. I'm a creative and visually driven person. And the design works for me. You're confined. You're forced to break down your ideas and concepts. You only have nine frames in a carousel to work with so you have to be really direct and concise with the ideas you're sharing. 
I found Instagram is a great place for me to test out content before I put it on Twitter, too. 
What advice would you share for entrepreneurs choosing to stay remote post-COVID? 
The biggest hurdle I've come across is just my own mindset and how I think about the company that I'm building as an entrepreneur. Choice is really important in terms of not being totally dogmatic in terms of what's going to be your company now versus your company five years from now. 
Amazing, thank you for your insights!
You can get in touch with Avery on Instagram and Twitter.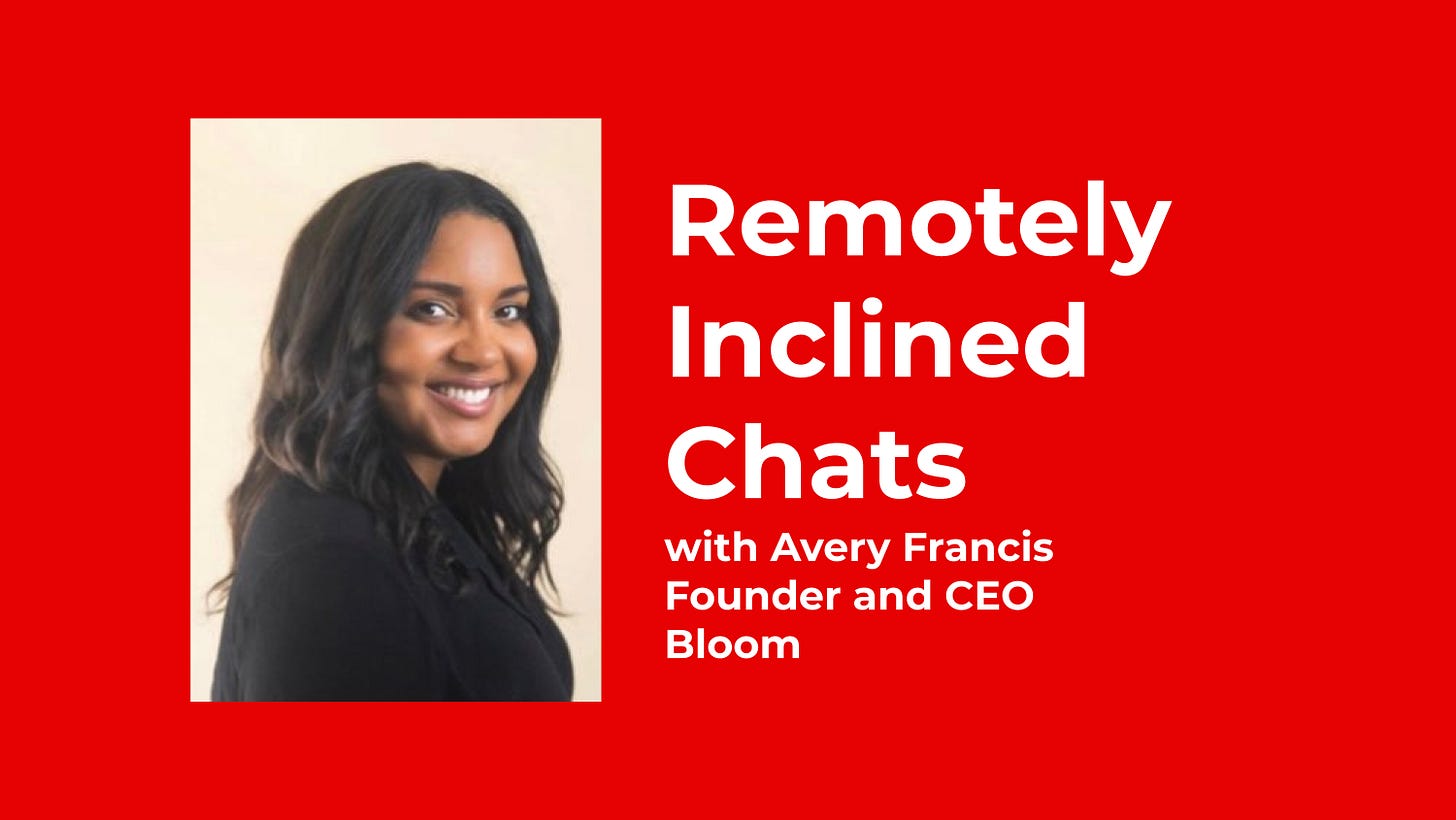 Image courtesy Avery Francis' Twitter.