Hi,
Welcome to Remotely Inclined, a newsletter about running a business remotely. If you'd like to sign up, you can do so here. Want to share your feedback? Respond to this email (or send me one). Or just read on…
Today: We're talking about the next generation of remote entrepreneurs - and how BETA Camp is helping them launch their businesses.
Yifan Zhou and Ivy Xu met in middle school and became friends, but went their separate ways after college - Yifan to Bain & Company and Ivy to Silicon Valley. Years later, the two reconnected and realized all of the things they wished they'd learned in high school about entrepreneurship, strategy, and business. High school business classes in Ottawa just didn't cut it. So the two founded BETA Camp, an immersive camp for high school students to teach them how to start a business - then help them actually do it. 
In this conversation, Yifan and Ivy shared the BETA Camp founding story, the curriculum students learn at the camp, and their thoughts on the future of remote entrepreneurship. 
Seeing an opportunity
→ Yifan and Ivy reconnected in late 2019, shortly after Yifan finished her MBA at Wharton and Ivy had left her Silicon Valley job to interview tech entrepreneurs around the world. The two reminisced about high school and all the learnings they wished they got as teenagers. 
→ With that passion - and realizing that no such camps existed in Canada (and their American counterparts were cancelled due to COVID in early 2020) - the two saw an opportunity to launch BETA Camp as a virtual, six week summer camp. 
From nothing to business
→ Weeks 1 and 2 focus on business fundamentals: Strategy, the Four P's of Marketing, Porter's Five Forces, and other foundational knowledge. 
→ Week 3 is all about customer discovery and product market fit. 
→ Weeks 4 through 6 focus on taking customer lessons from Week 3 and creating a real, thriving remote startup. Each week features lectures, team discussion and activities, and talks from successful founders about the startup building journey. 
The new crop of remote (teen) entrepreneurs
Now in Week 5 of 6, the program is already churning out viable businesses led by teens: 
A business teaching teachers how to use more state of the art technologies for more collaborative classrooms. 

A fitness accountability and accessibility app in Slack. 

A new Slack plugin. 

A UV light box that will kill germs in your garage. 
Tools mentioned in this episode:
The final word
"The future looks remote to us."
---
If you're thinking of freelancing - or side-hustling, launching an ecommerce store, or something else entrepreneurial - check out #5to9Conf.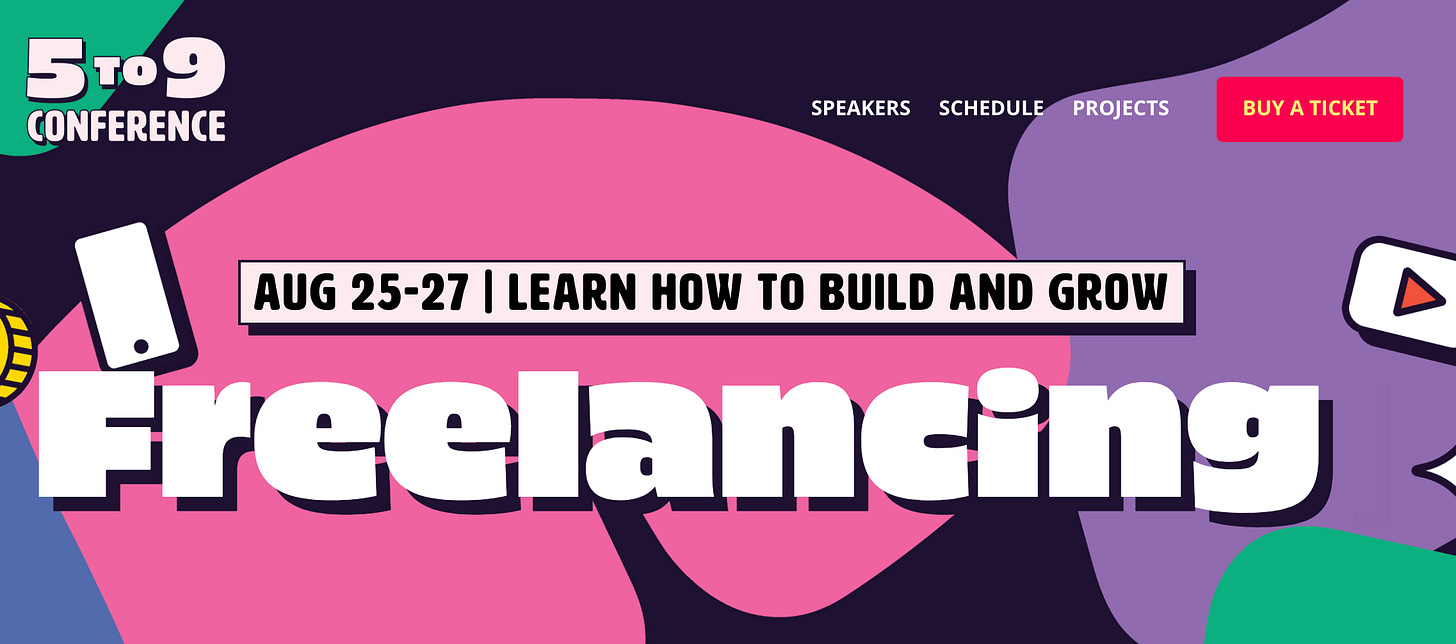 I'll be speaking about building an inbound client funnel, and other speakers are covering everything from community building to building new products.
---
Remotely Inclined Chats with Yifan Zhou and Ivy Xu
Transcript edited for brevity and clarity.
Stefan: Welcome, Yifan and Ivy! Can you share what BETA Camp does?
Yifan: BETA Camp started out just this summer because of the pandemic - we knew there were going to be a lot of high school students at home without something impactful for the summer. So we started a six-week immersive virtual summer camp focused on enabling the next generation of leaders, whether they want to be entrepreneurs, tech innovators, or business leaders. 
The BETA Camp program has lectures from industry professionals on topics around building a business: intro to business, user design, scaling, to growth. They see the whole spectrum and then actually apply it to their own startups. Throughout the six weeks, they have the opportunity to work in teams and build a startup from the ground up. 
Was this going to be remote anyway, or was that in response to COVID?
Ivy: I've always been interested in helping high school students broaden their perspectives. Both of us grew up in Ottawa and we didn't see many opportunities. After going to Queens University for a bachelor of commerce, I ended up moving to Silicon Valley and seeing the ambitious entrepreneurs, the startups, and the scale of things. It really broadened my perspectives on what I can do with my career - it's something I wish I'd seen earlier. 
Yifan and I met in middle school, but then went our separate ways after university. But there was this unique time - back in 2018, I quit my job and travelled for a year, interviewing tech leaders all over the world. In 2019, Yifan had just finished her MBA at Wharton. So it was time when we both didn't have that much on our plates and so we could start something. That's when we thought of BETA Camp in the spring. 
Both of us being from Canada, we realized that there weren't many competitive and immersive programs in the business, tech, and entrepreneurial space here. So there was a market gap. There are plenty in the US, but a lot of them were not running during the summer and now so many got cancelled due to COVID. So we saw this opportunity to provide this experience - and we think we can do it well with counselors that we can bring in. It really highlights the strength of a virtual program, since we can allow students to learn from the best of the best, no matter where the counselor is anywhere in the world. 
How did you develop the curriculum? What's included?
Yifan: When we came up with the curriculum, it was asking what we would have wanted to know in high school. 
Week one is very introductory - intro to business and entrepreneurship. 
Week two is business fundamentals. Thinking about strategy, the Four P's of marketing, and Porter's Five Forces. That kind of traditional business stuff. 
Week three is product-market fit and customer research. Basically: finding a problem and finding out the pain points of your customers and designing something they actually want. 
Weeks four, five, and six is developing that product and growing it. Think about scaling, sales, marketing, etc. 
We have lectures and bring in amazing camp counselors from all over the world, and they are generally an hour and a half. There's some theory, but then immediately live activities. It creates this MBA program atmosphere when you think about cases and having discussions. 
Then there's Founder Fireside chats, where we bring in founders to talk about their journey and students can ask whatever questions they want. One amazing founder I want to highlight is a highschool student who built a business - and I think the students could really relate to how you establish the ability to start a business as a high school student. 
From there we have Future Fridays, which talks about what the future could look like. We'll have someone with an MD, JD, MBA, or PhD talk about what that looks like from their perspective. Or a digital nomad talking about not having a permanent place to stay and how they deal with that. 
Should everyone start their businesses remotely?
Ivy: I believe the future is moving more and more towards being remote. As for BETA Camp, the future looks remote to us. We're going to stay a remote program just because of the broader horizons and the skills that we want to teach at BETA Camp. 
In 10 years, by the time Campers join the workforce, they'll most likely have the option of joining a remote team. Something I want to highlight is the skills we teach is how to communicate remotely - our teams are located all across North America. And then they come together and are using some of the best tools out there like Miro, Mural, or building integrations with Zapier. These are the tools used by remote teams. 
Do you work with universities? How can parents get involved?
We haven't really done university partnerships. Unlike some other programs, we're not a recruiting channel for these universities. But we've found amazing camp counselors from universities like Stanford, Wharton, MIT, etc. and also from some amazing companies. 
On the parent side, it's fantastic to see some of them - some of our campers have parents who are very entrepreneurial. It's great for an entrepreneurial parent to guide their child, but also BETA Camp is a great opportunity for those students to meet other students with a similar passion for producing what's going to be valuable in the world. 
As we record this, you're in week 5 of 6 - how are things going? What's next?
Ivy: It's really not even a six week program to build a startup, since the first two weeks are introduction and strategy. Looking back, all the skills and new tools they know is great. 
We have a team starting a business teaching teachers how to use more state of the art technologies for more collaborative classrooms. 

We have another team building fitness accountability and accessibility app in Slack. 

Another is building a Slack plugin. 

Then one team is building a UV light box that will kill germs in your garage. 
It's all across the spectrum. With today's systems - and we teach them about integrations with no-code - everyone could operate remotely. 
It's one of the most rewarding things for me is seeing the real projects with validated markets - it's unparalleled learning for these students to apply what they learn and feel how hard it really is to get customers and think about backend operations. 
Next is we're launching a Fall 2020 program that's going to be 12 weeks instead of just six, from September to December. It's going to have the best parts of summer based on feedback from students, just pushed out over 12 weeks. 
Running parallel to school, we hope they'll be able to achieve at least the same, if not more results by the end of 12 weeks. 
Amazing, thank you for your insights!
You can get learn more about BETA Camp on their website or Instagram.