Discover more from Remotely Inclined
A newsletter about the future of (remote) work
Over 1,000 subscribers
The Big Transition: Tracking Remote Work Announcements From Major Companies So Far
Almost every company is choosing to adopt a hybrid model
Hi,
Welcome to Remotely Inclined, a newsletter about running a business remotely. If you'd like to sign up, you can do so here. Want to share your feedback? Take this short survey. Or just read on…
First: A huge welcome to new community members!
Second: I want to send a massive thank you and gratitude out to everyone who responded to my article about turning my life around. Hearing your stories keeps me inspired. Thank you for reaching out and sharing. 
Today: It seems that more and more large companies are announcing that remote work is here to stay. It's dizzying to think of the tens of thousands of people who may never set foot in an office again (or at least not on a daily basis). Last month I wrote about the economic implications of companies moving to permanent remote work, and it seems those conversations are becoming even more poignant. 
On the other side of this conversation, though, are people who hate remote work. They can't wait to get back into the office. In my opinion, it's not remote work they hate - it's lockdown and COVID, which makes total sense. When you're forced into something with no time to prepare and other external madness, you are far less likely to enjoy it, which is something I wrote about in February: Why coronavirus is a terrible thing for remote work. 
For the most part, my guess is if people are liking remote work now, they wanted to give it a try long before COVID. 
And now tens of thousands more people will be able to continue, with the name of the game being choice. Of all the companies, only one - Skift Media - is going full-remote (it's also by far the smallest company on the list, with around 100 employees). Every other organization is adopting a hybrid model, just one of the 7 kinds of remote work.
In this article, I'm tracking announcements by large / well-known companies that are transitioning to permanent remote work - and going all the way back to some of the earliest ones. I've ordered these by date of announcement. 
Have an opinion about how these companies will fare with hybrid remote work? Drop a comment and share your thoughts!
So let's dig into those announcements, shall we? 
OpenText - April 30th, 2020
The multi-billion dollar firm employs over 12,000 people. In April, the CEO made a statement that the company would not be reopening 50% of its offices post-COVID, according to ZDNet.
In that statement, the CEO added that 95% of OpenText's employees were able to move to remote work within a week of COVID-related closures, and post-COVID the bigger offices will allow for flexible, hybrid remote work arrangements with staff. 
Bank of Montreal (BMO) - May 5th, 2020
Bank of Montreal plans to end COVID with up to 80% of its workforce staying remote - that's about 36,000 employees. 
"We thought it was critical that we were in the office to make something happen, and what we've proven through this is that's actually not the case," said Mona Malone, BMO's Chief Human Resources Officer, in an interview with Bloomberg.
While the announcement was sparse, the bank said it's aiming for a more hybrid approach to remote work. It's primary plan is to reduce the number of workers who only work from an office, instead having the majority of staff doing a mix of at-home and in-office work. 
Liking this post? I'd be grateful if you shared it!
Twitter - May 12th, 2020
Jack Dorsey, the co-founder and CEO of Twitter, casually mentioned that Twitter's 4,500+ employees could simply work from home "forever" if they wanted. 
The official announcement blog said that "Opening offices will be our [Twitter's] decision, when and if our employees come back, will be theirs."
Square - May 18th, 2020
Also run by Jack Dorsey, Square announced that employees would have the option to stay remote if they chose post-COVID. 
In a statement to CNBC, a representative for Square said "Over the past several weeks, we've learned a lot about what it takes for people to effectively perform roles outside of an office, and we will continue to learn as we go."
Not all employees will be allowed this remote option, though. The company also told CNBC that some jobs cannot be done remotely on a permanent basis, so some of Square's 3,000 employees will return to the office when it's safe to do so. 
Coinbase - May 20th, 2020
Hailing itself as a "remote-first" company post-COVID, digital currency exchange Coinbase announced that its 1,100+ employees will have the option to work remotely on a permanent basis. 
Linking their decision to go remote with the broader cryptocurrency ecosystem and ethos, co-founder and CEO Brian Armstrong shared the letter he sent to employees in a Medium post.
Facebook - May 21st, 2020
Facebook made earlier headlines for treating its remote workers decently during COVID-19, giving every employee $1,000 in extra pay to help with unexpected expenses. 
Then the company announced its plan to allow permanent remote work, but there are a few catches to this announcement.
According to CNBC: 
Shopify - May 21st, 2020
Boldly proclaiming that Shopify is "digital by default," founder Tobi Lutke took a trend and made it a global PR stunt when he announced their 4,000+ employees could permanently work remotely. 
Shopify is noteworthy - even on this list - because of their approach. Instead of making a big announcement then figuring out the details, the Shopify careers page was already updated with their "work anywhere" tab ready to go on announcement day. This announcement had some great lessons for any business leader wanting to transition to remote work, including how they branded the announcement and the support they give to employees.
Upwork - May 22nd, 2020
Upwork has been powering remote work for quite some time - it's a digital marketplace for freelancers to get jobs they can work remotely (in most cases). Now the company is practicing what it preaches, and going "remote-first" according to CEO Hayden Brown.
Brown added that the company will still have some office space, but it will be used for "intentional" collaboration. 
Skift Media - May 25th, 2020
When Skift's lease is up on its Manhattan office, the company - and its ~100 employees - is going officially remote. Or, as co-founder and CEO Rafat Ali said, "connected." The company is intentionally dropping "Remote" from how they describe themselves to help with "mindset, gimmicky or not."
Slack - June 15th, 2020
Another major company announcing permanent remote work, Slack's Senior Vice President of people Robby Kwok said that the company's 1,600+ employees will have the choice to return to offices or continue to work remotely on a permanent basis.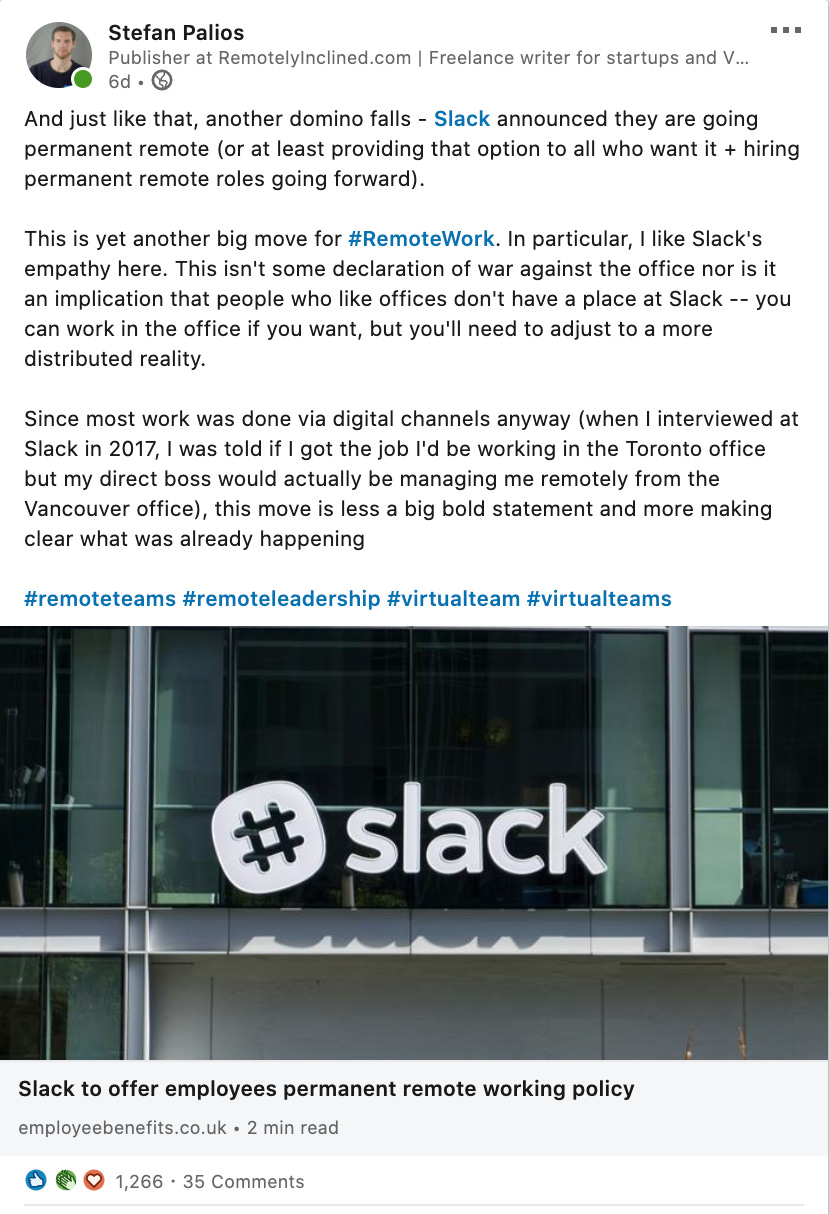 My LinkedIn post about Slack's announcement took off, being viewed more than 60,000 times
In a statement about the shift, Kwok talked about coronavirus' impact on the company, and said,"One thing we know: Slack is going to become a much more distributed business. That means most employees will have the option to work remotely on a permanent basis if they choose, and we will begin to increasingly hire employees who are permanently remote."
UBS - June 22nd, 2020
At a Bloomberg conference, UBS COO Sabine Keller-Busse said that up to 1/3rd of the Swiss banking giant's 70,000 employees could end up working remotely as the bank staggers reopening of its offices post-COVID.
While not making any confirmations about which third of the company would be remote, Keller-Busse suggested that it's more likely to be back office workers or high net worth client advisors. Those with trading jobs or those who advise initial public offerings would be the most likely to return to the office when it's safe. Keller-Busse also added her prediction that other banks will follow a similar trend.
Some companies have not announced permanent remote work (yet?) but have extended remote work arrangements due to COVID 
On the flip side, Apple has been reportedly asking employees to come back into the office as early as mid-May. 
And many large / well-known companies that have been remote since long before COVID
For more remote companies, check out these two lists:
Looking for a remote job? Check out my guide on where to find thousands of remote jobs.
Know of another big company going permanent remote? Drop a comment with a link to their announcement!